---
Polly Morland – 8 June 2022
Polly Morland joined us to talk about her book, A Fortunate Woman, about a country doctor working in rural practice in the Midlands. Her story is entwined with the story of A Fortunate Man, John Berger's classic 1967 account of a country doctor working in the same valley more than half a century earlier.
---
Crafting with Dried Flowers Workshop with Angela Maynard – 22 May 2022
We hosted a Dried Flowers Workshop with florist, designer and author of Modern Dried Flowers, Angela Maynard
Everyone learnt how to beautifully craft a button hole, a corsage and a flower crown whilst enjoying coffee, tea and cake from our writers' cafe!
https://www.youtube.com/shorts/3BF6gbxgHgg
---
Tessa Hadley – 19 April 2022
Tessa Hadley, bestselling author of Late in the Day and The Past, joined us in the bookshop to talk all about her new novel Free Love, a novel about one woman's sexual and intellectual awakening in 1960s London. Tessa was in conversation with literary journalist and broadcaster, Suzi Feay.
Tessa also shared all about her writing process and where she draws inspiration for her novels in what was truly such an inspirational evening!
---
Kat Farmer – 31 March 2022, Walthamstow Hall School
This was such a wonderful evening on the publication day of Kat Farmer's debut book, Get Changed. Kat is an Instagram style guru and professional stylist whose book covers assessing your current wardrobe, your body type and lifestyle and how to shop successfully. Kat was in conversation with award winning journalist and editor Marianne Jones for this event that celebrated rediscovering your confidence through fashion.
---
Patrick Gale – 22 March 2022
We had the loveliest evening in the Bookshop with Patrick Gale discussing his newest novel 'Mother's Boy'. Thank you so much to everyone who came!
We got to learn all about Charles Causley (the subject of Patrick's most recent novel), hear Patrick answer questions about his work, and even got to sneak a peak at Patrick's manuscript!
We also raised £140 for RefugEase, a charity that does really great work with refugees from Ukraine as well as all across the world.
---
Yvonne Telford – 8 March 2022, International Women's Day Event
To celebrate International Women's Day, we had the incredible Yvonne Telford, founder and creator of the much-loved independent fashion brand, Kemi Telford, talking about her journey as a women in business and the books that have inspired her along the way.
This was such a special night celebrating readers and the power of books!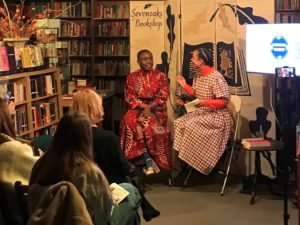 For Yvonne Telford's full list of favourite reads head over to our bookshop.org list . We also have Yvonne's Inspirational bundle available on our website with a 15% discount.
---
Annabel Abbs – 23 February 2022
Annabel Abbs joined us in the Bookshop for our first in person event of 2022 and what an event it was!
Annabel talked all about her latest book The Language of Food, an evocative and heart warming book about food, friendship and the courage needed to lead an independent, creatively fulfilling life as a woman in Victorian England.
---